As 2021 has come to and end, and we look at the real estate trends over the past year, it becomes apparent that this was a year like none other in many ways. In 2021, the luxury housing market outpaced the market for mainstream properties, and this was especially the case in the Greater Toronto Area, which includes Mississauga. High-end neighborhoods in the Mississauga real estate market like Port Credit, Lakeview, Mineola, Lorne Park, and Gordon Woods saw unprecedented demand and high sale prices, along with the rest of the area surrounding Toronto.

Throughout 2021, we saw increasingly high demand for Mississauga luxury homes, but supply stayed quite low. Prices of luxury homes soared this year, particularly in the Greater Toronto Area, which is historically a pricey luxury market. Let's take a closer look at some key details as to this year's trends and patterns in the Mississauga real estate market and dive into where the market is likely headed as we move into 2022:
Demand for Mississauga Luxury Homes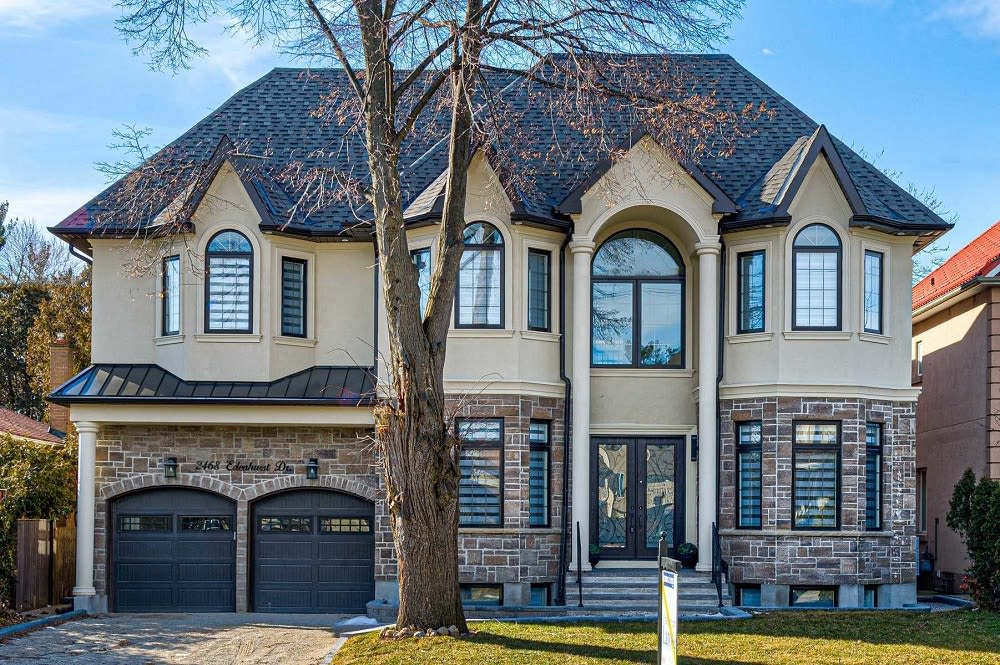 As a direct result of the global pandemic, life changed for people across the world in many ways. People began spending
more time at home
, and homes became their new offices. It is now more important than ever for owners to live in a home where they enjoy spending their time. For the Mississauga real estate market, that resulted in demand for Mississauga luxury homes soaring in 2021.
While demand throughout 2021 was high, supply was an issue for those looking to buy. Mississauga luxury homes were scarce, as people who already owned them tended to not put them on the market often. Potential homebuyers in the mainstream market had the same issue, as homes across each market were low in supply throughout 2021. As of this December, the median number of days Mississauga luxury homes sat on the market was
11 days
. Of 23 locations in the Greater Toronto Area, Mississauga ranked as the 9th fastest-selling market.
Between January and October 2021, an impressive
9,984 homes
in Mississauga were sold. Compared with that same period in 2020, home sales were up 38%. However, by October 2021, the number of new and active listings were in steep decline and we saw some of the lowest listing numbers observed in the last twenty years. In October, the number of active listings in Mississauga was
63.4% lower
than the average amount of listings on the market for the last ten years. Inventory has trickled down in the last few months of 2021, though demand for Mississauga luxury homes has remained high. This has created a strong seller's market and fierce competition for those looking to buy homes.
Mississauga Luxury Home Prices
In 2021, the prices of Mississauga luxury homes
increased by a significant 27%
. This comes as no surprise, as the Greater Toronto Area saw the greatest luxury home price increases out of any city included in the global price index. On average, global luxury home prices rose by 16% through the second quarter of 2021, so even when compared to other luxury markets it's clear to see that the Greater Toronto Area stands out. The luxury real estate market's growth didn't slow after the second quarter - according to the Prime Global Cities Index, luxury home prices
increased by 9.5%
through September, a 1.2% increase from June. Toronto and its surrounding cities once again topped the charts.
Even though Mississauga luxury homes were in short supply this year and those that were available carried high price tags, people were willing to buy at these elevated prices. Luxury homes flew off the market this year, thanks to the scarcity of homes available for purchase. As further proof of this, the number of luxury condos sold in 2021 in Toronto was
double the amount
sold in 2020.
The price of real estate in Mississauga and the Toronto area climbed to new heights throughout 2021. The average sale price of Mississauga luxury homes rose from
$850,056 in January 2021
to over $1,036,000 by the end of the year, an average increase of more than $185,000 per home. Even with prices increasing and homes selling at, on average, 108% of their listing prices, homebuyers continued to purchase Mississauga real estate within two weeks or so of properties being listed.
Future of Mississauga Real Estate
As pandemic-induced restrictions continue to be rolled back, cities are beginning to reopen and businesses are beginning to return their employees to work. Those who left cities like Toronto during the public health crisis have already started to return and will continue to do so throughout 2022. Despite this predicted growth, it is expected that new inventory entering the Mississauga real estate market will remain low going into 2022. Sellers will have a vast pool of offers to choose from and will be able to sell quickly. Potential homebuyers will likely have to continue to put in offers well above asking price in order to have a fighting chance at purchasing their desired Mississauga luxury homes. With fewer homes on the market in Mississauga than ever before as we enter 2022, buyers may have to sweeten their offers to stand out amongst the competition.
Considering the strong seller's market for Mississauga real estate, it can be difficult to find and successfully buy the home you're looking for. Going it alone can be frustrating, but a real estate agent can help you navigate the high-pressure, fast-paced Mississauga real estate market. Working with an experienced real estate agent like
those on the Larose Team
who know the ins and outs of the market is your best bet. With persistence and help from an experienced agent, you can find and make an offer on the Mississauga luxury home of your dreams.