Looking for a fun evening out with friends or a date night with your significant other? If so, you're in luck because Port Credit has plenty of options for you to choose from.
Located in south Mississauga, Port Credit is situated on the shore of Lake Ontario. This town has a growing and thriving restaurant scene and has become a popular destination for foodies from all over. Many of the restaurants and bars in Port Credit have patio seating that offers stunning views, and it's the perfect place for those who are looking to enjoy a nice meal or drinks after work, enjoying the sunset on the waterfront.
Stonehookers
Located in Lakeview,
Stonehooker
is the perfect place to go for a fun-filled evening out. A small, independent, start-up brewery, Stonehookers specializes in a variety of traditional and contemporary styles of beer. This ranges from refreshing lagers to eclectic wheat beers to traditional IPAs. They are also a proud member of the Ontario Craft Breweries.
With their Biergarten open, Stonehookers is a fantastic place to soak up the sun with a cold drink in hand. If you're in the mood for a bite to eat, consider ordering a little something off the menu! The restaurant specializes in fresh, locally sourced, all-natural ingredients. Plus, delicious Stonehooker beer goes into making the recipes. A rotating array of meals are now available depending on the day, so be sure to keep an eye on Stonehooker's social media page.
Colossus
While traveling to Greece might not be in your cards at the moment,
Colossus
will make you feel as though you are on the beaches of the Mediterranean. This laid-back Greek eatery, located in Port Credit, is famous for its authentic Greek dishes. The executive chef and his professional team have masterfully prepared a menu that showcases a diverse array of traditional Greek appetizers, pasta, fresh fish, specialty lamb dishes, and daily featured entrees and homemade desserts. Colossus' vibrant menu pairs perfectly with their sidewalk seating.
To complement your meal, treat your palate to a glass of wine from a selective award-winning Greek wine list. Craving a little something sweet after dinner? Consider ordering a sweet (or two!) off the dessert menu. Baklava, made with phyllo, walnuts, honey and pistachio ice cream, is an absolute must and the perfect end to your dining experience.
The Port House Social Bar & Kitchen
Chic, trendy and modern are just a few words that describe
The Port House Social Bar & Kitchen
! Located in Port Credit Mississauga Lakeshore, this upscale gastropub is a popular choice for a memorable evening out. The open concept floor lounge is hard to miss. To guarantee yourself a table, it's a good idea to make reservations in advance. If the weather permits, consider opting for a table on the outdoor patio, where you can take in the views and enjoy the breeze.
The menu offers a colorful array of items to choose from, including vegetarian options. The miso salmon, butter chicken, and fish and chips are among some of the most popular menu items. Unsure of what to order? The attentive, friendly staff members will be happy to give you recommendations. Elevate your evening by ordering a glass of wine, such as The Dreaming Tree Cabernet Sauvignon from California.
The Crooked Cue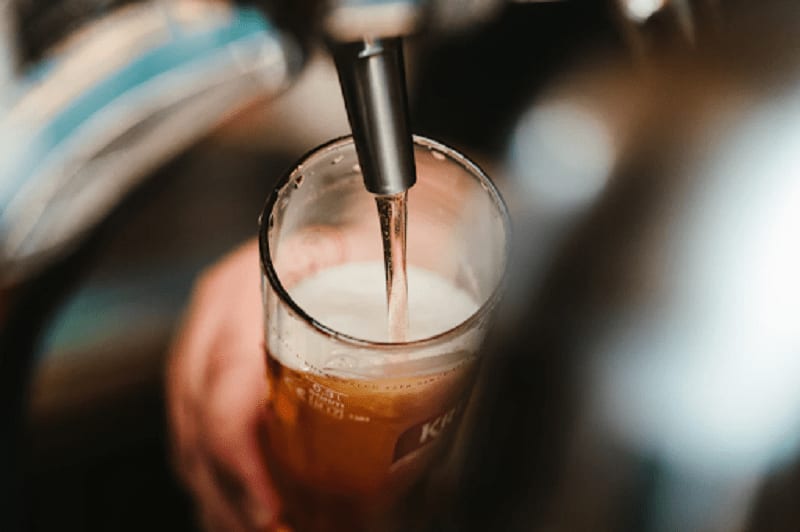 Since first opening its doors 30 years ago,
The Crooked Cue
has been the place to gather for the community. With two outstanding outdoor patios, it's no surprise that this is a summertime favorite. They are passionate about serving high-quality food in an exceptional environment and uncompromising service.
This family-owned and operated business is committed to cultivating guest connections. Whether it's your first or your 50th time here, you'll feel at home in this inviting and warm atmosphere.
Located in Port Credit Mississauga, The Crooked Cue features a diverse menu, ranging from salads to sandwiches to burgers. Ontario Craft Beer is also served here, as well as imported "pure beers" on tap and in the bottle, ensuring the best quality and taste. The beer list also boasts many all-natural beers craft brewed by local family-owned breweries.
El Jefe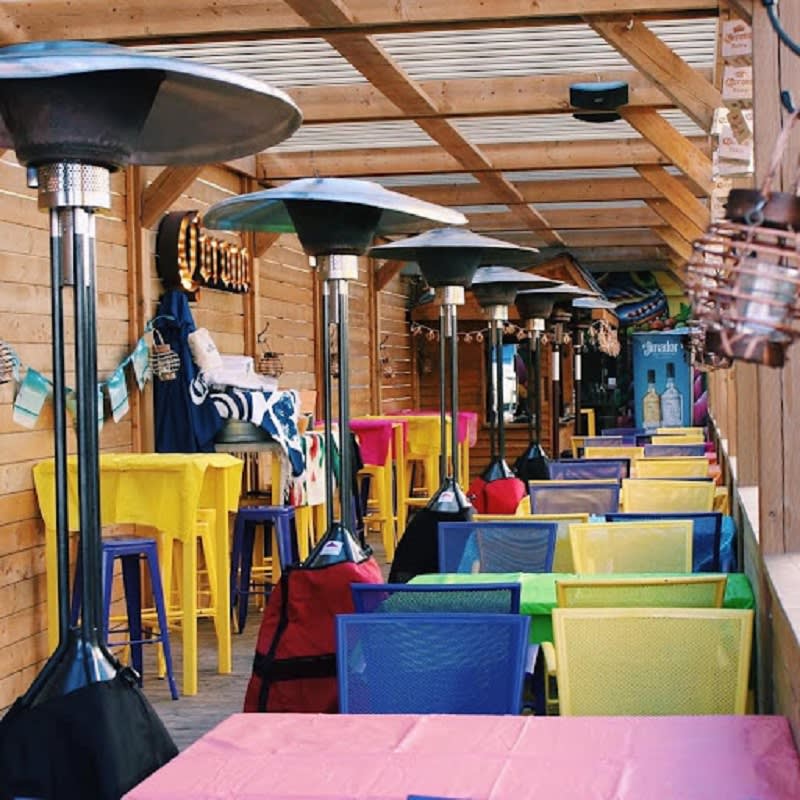 Credit: El Jefe
Located in the heart of Port Credit,
El Jefe
is known for its authentic Mexican cuisine and colorful ambiance. This lively eatery specializes in tacos and delicious entrees, all made with authentic seasonings and flavors. From camaron to pescado, you'll have plenty of taco options to choose from (taco Tuesday, anyone?). If you're not in the mood for tacos, don't worry — there's still plenty more! The menu also includes chimichangas, taquitos and maize callejero.
To go along with your meal, why not order a cocktail or margarita? The cocktails are expertly mixed with house-made syrups and purees. Additionally, the bar packs an extensive tequila selection. To satisfy your sweet tooth, finish your meal with a churro. Tossed in cinnamon sugar, this warm and fluffy fried dough pastry will be the perfect end to your dinner.
You can choose to enjoy your dinner inside or select a table outside. With a capacity of 75, the outdoor patio features a tiki bar ambiance and plenty of space to enjoy your meal. Plus, the retractable roof means you can enjoy a meal alfresco rain or shine!
The Shore Grill and Grotto
If you're looking for a casually elegant dining experience, we've got just the place for you!
Shore Grill and Grotto
, located in the heart of Port Credit, is a refined, lounge-like setting with an attractive dining room. Plus, did we mention that they've been awarded the Diners' Choice Award?
The intimate ambiance provides the perfect place to take a date or celebrate a special occasion, and the creative menu offers an unconventional twist on traditional Italian dishes. Between the months of April to October, when the weather is best, the restaurant even opens up their boardwalk patio that sits on Lakeshore Road. This allows you to enjoy your dinner and sip on some delicious sangria while taking in the excitement of the Port Credit streets.
Snug Harbour
Looking for an elevated culinary experience? If so, be sure to book a table at
Snug Harbour Seafood Bar and Grill
. Located in Port Credit, this seafood eatery overlooks the water and offers a relaxed, chic interior and a laid-back patio section outdoors.
To start off your meal, consider grabbing an order of blue crab cakes or littleneck clam chowder. The Oyster Bar selection gives you plenty of options to choose from! If you don't like seafood, don't worry. The menu also offers pasta, sandwiches, burgers, and gourmet pizzas. Whatever you decide to order, chances are you won't be disappointed.
Posta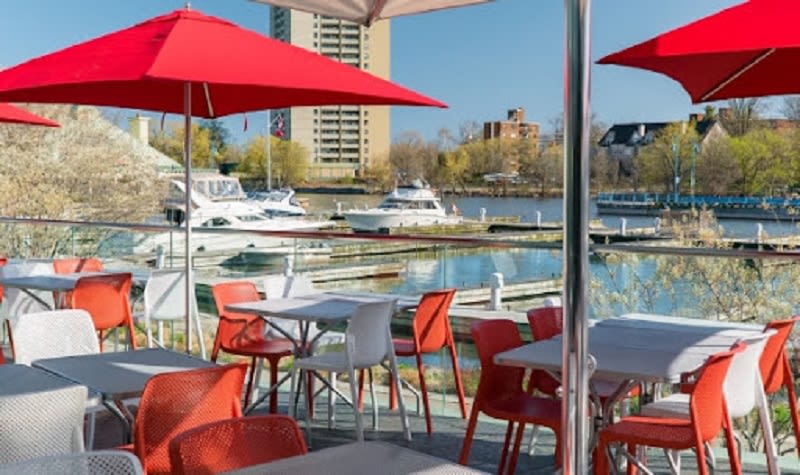 Credit: Posto
Whether you're craving pasta or pizza,
Posta
is ready to meet all of your Italian- food cravings. Nestled in the iconic Port Credit Harbour, Posta specializes in high-quality Italian cuisine made from fresh ingredients. Their sourcing is centered around organic, seasonally available produce, much of which comes from local farms.
Posta's thoughtfully curated menu is inspired by Italy's vast regions, offering classic dishes with a modern twist. The interior decor is elegant and contemporary, yet comfortable. If you prefer, you can enjoy your meal outdoors and take in the stunning waterfront views.
Pump House Grille Co.
Since its first opening in 2003,
Pump House Grille Co.
quickly became a favorite among Port Credit locals and visitors. Once you've dined here, you'll quickly understand how this eatery gained almost instant popularity. The menu features tasty dishes with a sophisticated spin, such as AAA house cut steaks to whiskey salmon to Pump House sliders, and their sidewalk seating soaks up the fantastic atmosphere of Lakeshore Road.
Peruse the impressive wine menu, which features exclusive wines from a variety of regions and a number of good brews on tap. Between the warm charm and delicious food, you'll soon fall in love with all Pump House Grille Co. has to offer.
Roc'n Doc's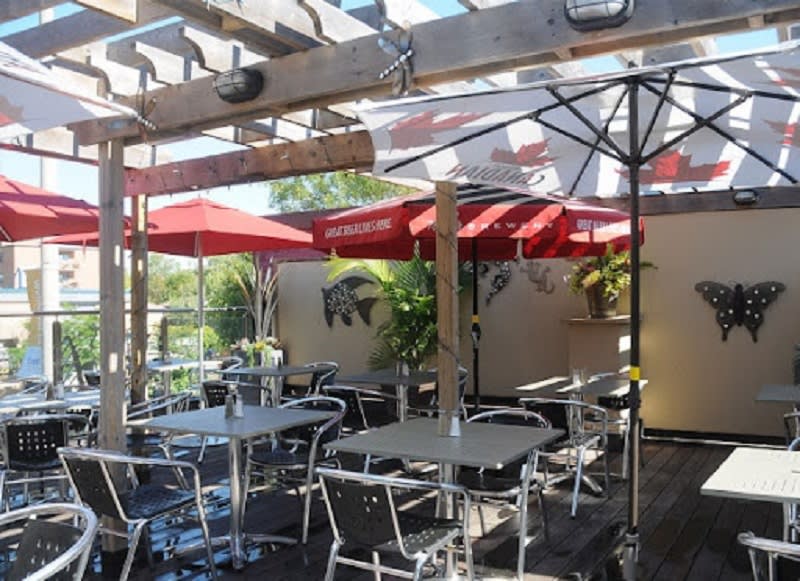 Credit: Roc'n Doc's
For a night of fun out on the town, stop by
Roc'n Doc's
! This live music venue and pub offers nightly entertainment and one of the best rooftop bars in the city. A variety of bands playing a diverse array of genres have graced the stage here. While enjoying the live music, you can also grab a bite to eat. Rock'N Doc's offers traditional pub food, as well as some creative dishes of their own. Plus, don't forget that Thursday is Happy Hour, where you can take advantage of 25% off appetizers.
Capra's Kitchen
Located in the neighborhood of Clarkson,
Capra's Kitchen
is dedicated to bringing top-notch Italian food to the neighborhood. The environment here is casual, sleek, and urban, whether you dine indoors or on the patio. Their menu features notable dishes such as antipasto, pasta, and pizza, along with meat, fish, and vegetarian and vegan options. The food is sourced locally whenever possible, and Capra's seeks to use high-quality ingredients from Italy and Canada.
End your dinner on a sweet note by ordering some tiramisu or a chocolate charcuterie board. This elaborate board features chocolate salami, white chocolate mousse, brownies, and wafer pearls. You can also stop by during the weekends and enjoy brunch.
If you're interested in exploring Port Credit real estate, The Larose Real Estate Team is prepared to help you find the perfect lakefront neighborhood to call home.
Contact
The Larose Real Estate Team to set up an appointment today.